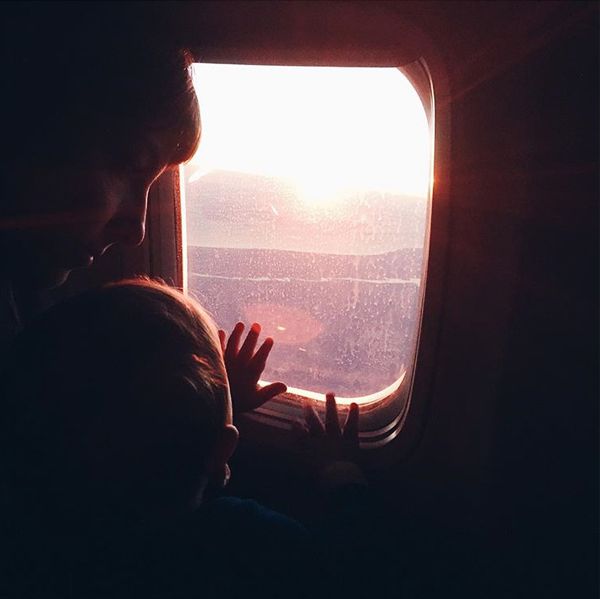 So. You've decided to embark on a journey with your toddler. You're probably a bit stressed out and thinking "Am I crazy?!" No. No you are not crazy. You are adventurous. You are giving your children the opportunity to meet new people and see beautiful places with you! What a gift to bring them on adventures with us, right?! Yep. Just keep telling yourself that. Here are some tips and tricks for traveling with your littles in tow:
1.
SKIP THE LINE & PACK LIGHT.
While this might not be possible if you're going on a longer trip, I like to pack as lightly as possible. Not only does this alleviate the ticket/baggage line, it also saves you time once you get to your destination. We're always desperate to get out of the airport, so it's
amazing
to not have to wait for our bags! So, if possible, only pack carry-ons. I have a backpack and a
Burton rolling bag
that I swear by.
2. STOCK UP ON NEW ENTERTAINMENT. I read that you should have a new something for your child to play with for every 15 minutes of the flight. I thought this was ridiculous, but it proved to be true! Some things will entertain your kids longer than others (i.e. Paw Patrol=live saver). It's always better to be over prepared when it comes to entertainment. Here's a list of my favorite in-flight activities:
-
Mess-free drawing
-Activity binder - just google "toddler activity binder" and you'll find a ton of great ideas
-Snacks! Make sure you have a
mess-free cup
they can hold. My boy loves holding his own snacks!
-New iPad games and videos. Make sure you load some favorite TV shows (I usually just purchase a few episodes of Paw Patrol, Curious George, etc in case my plane doesn't have wifi. Make sure you have entertainment that will work without wifi!)
*Don't forget
toddler headphones
. Max doesn't love wearing his, but it was nice to have the option.
3.
RELAX!
This is a tough one. Of course you're going to have some nerves and anxiety about being in a confined space with total strangers and your rambunctious kid. But I've learned that most people are extremely patient. A lot of people have been in the same position and are more than willing to lend a helping hand when you (inevitably) drop something out of your way-too-full hands.
Anybody else have good tricks for traveling with kiddos? Any new activities/ideas are more than welcome!